Moira is very old. It has been know by several names in the past – Magh Rath, Moirath, Moyragh and Moyra. The earliest sign of people living here is a crannog (a man made island or dwelling built on stilts in a lake or bog) in the townland of Drumbane. It is a ruin of a primitive dwelling-place that is very old but with no date put on it. (Craigavon Historical Soc. Vol 2 no1)
There are many earthen raths or forts in the area. The one behind Glebe Gardens is called "Pretty Mary's Fort." (see below)
The best kept example is the "Rough Fort" on the Old Kilmore Road. (below)
Another one close to the quarry on the Lurgan Road was levelled years ago.
It is these forts that are thought to give Moira its name. Some think the origin of the name Moira comes from the Irish "Magh Rath" (the Plain of the Ring Forts).
These forts and crannogs were built to protect people and animals.
The green in front of the houses at Claremont has always been thought of as another of these ring forts. (below) But it is actually much older and is called a Henge. Henges are from the Neolithic period and Early Bronze Age and were large ceremonial circular earthworks. They are thought to have been meeting places where a tribe congregated at certain times of year for rituals or other gatherings.
Did the Romans ever visit this area? We know the Romans mapped the British Isles, and one of their maps clearly shows Belfast Lough, with a river flowing into it. Perhaps one of those Roman map makers sailed up Belfast Lough and explored the Lagan as far as Moira! Unlikely? You never know!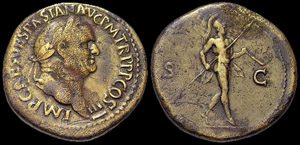 example of a Roman coin
I say this because a Roman coin from the time of Vespian (70 AD -79 AD) was unearthed here shortly before World War 1 and is now in the Ulster Museum in Belfast. (see Craigavon Historical Soc. Vol 2 no1 and BBC Northern Ireland – Blueprint series)